This is a new installment of our new Harry Potter Power Hour Fan Fiction, and the first post of "Twelve"! Be sure to bookmark the HPPH Blog for more HPPHFF in the future. Enjoy!
Twelve: why are we fugitives?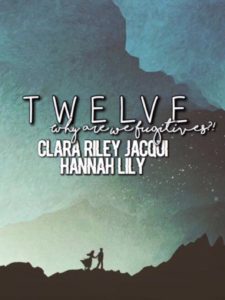 I should've never listened to that muggle. I knew it would end bad. I knew it. But somehow, I did it anyway. And it was the biggest mistake of my life. How could I have done this? How could I have been so blinded? Well, I guess I should tell you what happened.
~
The Wizarding World as you know it has many secrets. Yes, the famous Harry Potter and his storybook friends are real… but a few people you MAY not be familiar with, were cut out of the plot. Hi, my name is Clara Weasley, and I'm almost POSITIVE you've never heard of me. Yeah, that's right, I'm the 8th Weasley. I was adopted by the Weasley's at a very young age, and kept a secret. I was considered "different" even "loony," which lead to me being mistreated, kept away. Alone. I "never existed" in the famous Harry Potter books. It wasn't until I got my Hogwarts letter, that I really started to have hope. I thought maybe at Hogwarts I would get noticed, maybe they would include me in a book! Or I might even, maybe, make some friends! I actually, for a few weeks, thought I might live a normal, wizarding life.
Oh, was I Wrong.
But don't misunderstand, Hogwarts is a great place. It was actually one of the only places I called home. On the first night I was sorted into the great house of Ravenclaw, and enjoyed the magnificent feast. But my dream of being noticed, was shunned to the side as soon as Rose Granger-Weasley and Albus Potter, and the rest of the "golden trio's" family arrived. My "cousins," who had no idea who I was, were constantly in the spotlight Leaving me, only a shadow in their light, the opposite of famous. I feel the only thing that kept me going at Hogwarts was my friends. Riley Lovegood, my fellow Ravenclaw & great friend. The Malfoy twins, Jacqui & Hannah, my Hufflepuff friends. & Lily Granger, my amazing & lovely Gryffindor friend. They had similar backstories as I, they were cut out of the plot too, kept a secret. Jacqui & Hannah knew how it felt to be mistreated by their families, like me. My first year was actually not as bad as I expected it to be, thanks to my friends. We shared many great times, and created many memories. At the end of term, we were sad to say goodbye. We promised to talk over the summer.
But I had no idea what we were getting into…
CLICK HERE for Part 2!
written by – @clara.weasley
To find out when new Harry Potter Power Hour Fan Fiction stories are posted, be sure to join the Harry Potter Power Hour Family by CLICKING HERE!