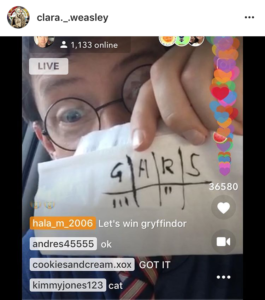 It was a quick Harry Potter Power Hour this past Sunday (sorry it was so short Potterheads!). But even in such a short time, Gryffindor House flexed their feline muscles in the Harry Potter Trivia and won the day, barely beating out Ravenclaw! Are you a part of the Gryffindor winners? Comment if so! (and shoutout to IG Potterhead @clara._.weasley for the screenshot)
By the way, if you haven't do so already, make sure you check out the HPPH t-shirts now available for order. Click HERE to check them out!
And if you're still reading, COMMENT your favorite Witch or Wizard from the Harry Potter universe!